5 delicious diabetic recipes for breakfast, lunch, dinner, and even dessert!
Need some new ideas for what to eat? We've put together 5 delicious—and diabetes-friendly—recipes. Breakfast, lunch, dinner—even an afternoon snack and a yummy dessert. This Patients' Guide will help you eat well all day long with our easy diabetic recipes.
Every recipe includes nutritional info to help you make good meal planning and insulin decisions. We've broken out the carbohydrates, calories, and fat content. Plus, we've given you the diabetic exchanges for every recipe—more help in making smart food decisions every time you eat.
1.Breakfast: Banana Yogurt Pancakes
A Diabetic Recipe to Start the Day Right
Begin the day right: these banana yogurt pancakes have just 14 grams of carbohydrates (in each serving). This is an easy and delicious twist on plain old pancakes—so good you should consider hosting a breakfast party instead of a dinner party next time.
What You Need
(makes 18 servings)
-----------------------------------------------------------
2 cups all-purpose flour, sifted
1 tbsp baking soda
1 packet sugar substitute
1 large and very ripe banana, mashed
8 oz fat-free plain yogurt
½ cup milk (preferably skim milk)
½ tbsp canola oil1tsp vanilla extract
4 egg whites, beaten to soft peaks
butter-flavored cooking spray
What You Do
After sifting the flour, combine it with the baking soda and sugar substitute in a large bowl.
Stir in the yogurt, banana, milk, oil, and vanilla. Stir until just moistened (don't over-mix).
In two parts, gently fold in the beaten egg whites.
Lightly coat a non-stick skillet with cooking spray. With a ladle, make 4-inch pancakes. Cook until the bubbles come to the top of the pancake. Turn and continue to cook until browned. Keep warm in the oven while you cook the rest of the pancakes.
Nutritional Info (Per Serving)
76 calories (7% calories from fat)
3g protein
1 total fat (0.1 saturated fat)
14g carbohydrates
1g dietary fiber
0 cholesterol
236mg sodium
Diabetic Exchanges
1 carbohydrate (bread/starch)
2.Lunch: Turkey (or Ham) and Apple Sandwich
Brown Bag It with this Easy Diabetic Recipe
Peanut butter and jelly is so passé. For a grown-up lunch (or to add some grown-up variety to your child's lunch), try this turkey (or ham) and apple sandwich.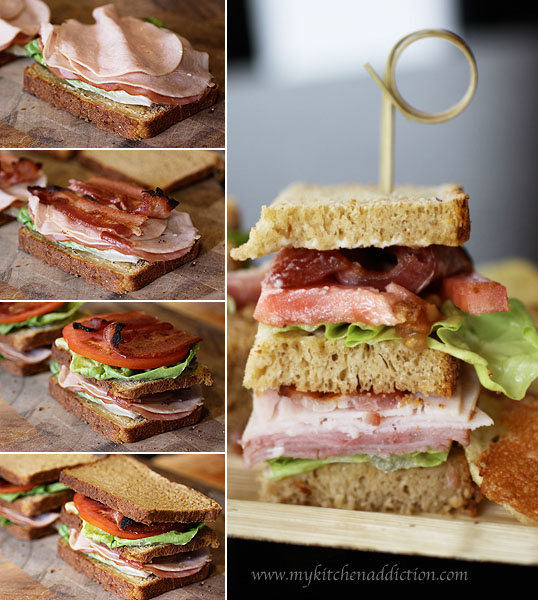 What You Need
(makes 1 serving)
------------------------------------------------------------------
2 slices raisin bread
1 tsp mustard (optional)
2 tsp reduced-fat mayonnaise
2 oz sliced deli turkey or ham
1 small apple, cored, cut in half, and thinly sliced
1 lettuce leaf, washed and drained
What You Do
In a small bowl, combine mayonnaise and mustard (if you're using it).
Spread the mayonnaise mixture on each slice of bread.
Layer on the turkey or ham slices.
Stick the apple slices on top of the turkey or ham, and then cover that with the lettuce leaf.
Nutritional Info (Per Serving)
304 calories (24% calories from fat)
15g protein
8g total fat (2.2g saturated fat)
5g carbohydrate
5g dietary fiber
45mg cholesterol
896mg sodium
Diabetic Exchanges
2 lean meat, 3 carbohydrate (2 bread/starch, 1 fruit)
3.Afternoon Snack: Nacho Popcorn
45 Calories and Under 10 Grams of Carbs: A Great Diabetic Snack
You know the 3:00 in the afternoon stomach growl. To feed that snack urge (and not throw off your entire day), try this nacho popcorn. Just regular popcorn is a great snack, too, but try kicking it up with some flavor.
What You Need
(makes 12 servings)
--------------------------------------------------------
4 quarts air-popped corn
butter-flavored cooking spray
2 tsp garlic powder
2 tsp ground cumin
2 tsp onion powder
2 tsp Worcestershire sauce
¼ tsp Tabasco (optional)
What You Do
Preheat oven to 300°F.
Spread popcorn in a large baking pan. Lightly coat with cooking spray. Toss and coat again.
Mix together the garlic powder, cumin, and onion powder.
Sprinkle the seasoning mix over popcorn, and toss the popcorn to get it evenly coated.
Drizzle the popcorn with Worcestershire sauce and Tabasco (if you're using it). Toss again.
Bake for 5 minutes, and then toss the popcorn. Put it back in the oven for another 5 minutes.
Nutritional Info (Per Serving)
45 calories (10% calories from fat)
2g protein
1g total fat (0 saturated fat)
9g carbohydrate
2g dietary fiber
0 cholesterol
11mg sodium
Diabetic Exchanges
½ carbohydrate (bread/starch)
4.Dinner: Shepherd's Pie
A Hearty Diabetic Recipe
This hearty but healthy recipe for shepherd's pie is perfect for those cozy fall and winter nights. Actually, it's so good, you may even want to eat it in the summer out on the deck (forget grilling out!).
What You Need
(makes 6 servings)
-----------------------------------------
Butter-flavored cooking spray
1 cup chopped onion
1¼ lbs ground sirloin
½ cup fat-free canned beef broth
1 tbsp tomato paste
2 tsp Worcestershire sauce
freshly ground pepper
1½ lbs potatoes, peeled and cut into equal-sized pieces
3 cloves garlic, cut in half
2 fluid oz egg substitute
¼ cup milk (preferably skim milk)
¼ teaspoon kosher salt (optional)
1 cup thawed frozen baby peas
What You Do
Preheat oven to 425°F.
Coat a non-stick skillet with cooking spray. Add the onions, and sauté over medium-high heat until they wilt.
Add the meat and cook, separating with a wooden spoon until meat has turned brown.
Strain the fat and liquid from the beef and onion mixture. Return to the skillet, but you don't have to put it back on the heat.
Stir in the beef broth, tomato paste, Worcestershire sauce, and pepper to the meat. Set aside.
Boil the potatoes with the garlic in lightly salted water until done (should be 20-25 minutes—until they're tender when you poke them with a fork).
Drain the potatoes and remove the garlic.
Add the milk and the egg substitute to the potatoes, and then mash them. Season with pepper and salt (if you're using it).
Put the ground beef mixture in the bottom of an oven-proof casserole. Top with peas and then spread with the mashed potatoes. Coat with cooking spray.
Bake for 15 to 25 minutes until heated through and top is nicely browned.
Nutritional Info (Per Serving)
269 calories (18% calories from fat)
2g protein
5g total fat (1.8g saturated fat)
28g carbohydrates
3g dietary fiber
59mg cholesterol
190mg sodium
Diabetic Exchanges
3 very lean protein, 2 carbohydrate (1½ bread/starch, 1 vegetable)
5.Dessert: Carrot Cake
A Sweet Diabetic Recipe

Common diabetes misperception: you can never have cake or cookies or anything sweet ever again. Don't you get tired of hearing that from other people and then correcting them? Make this carrot cake the next time you have guests, and you won't hear that misperception from them.
What You Need
(makes 20 servings)
------------------------------------------------------------------
Butter-flavored cooking spray
2 large egg whites, at room temperature (you can put the eggs in warm water for 10-15 minutes, or you can leave them out for an hour or so)
½ cup fat-free plain yogurt
3 tbsp canola oil
½ cup unsweetened applesauce

1/3

cup dark brown sugar, packed
2 tsp vanilla extract
2½ cups all-purpose flour
½ tsp baking soda
2 tsp baking powder
¼ tsp salt (optional)
½ tsp ground nutmeg
1 tsp ground cinnamon
1 cup shredded carrots
4 oz unsweetened crushed pineapple with juice
¼ cup dark raisins
What You Do
Preheat the oven to 400°F.
Lightly coat a 9 x 13 cake pan with cooking spray. Dust with flour and tap out excess.
Whisk together egg whites, yogurt, canola oil, applesauce, brown sugar, and vanilla extract in a large bowl.
In a separate bowl, sift together the flour, baking soda, baking powder, salt (if you're using it), nutmeg, and cinnamon.
In 3 parts, add dry ingredients to wet ingredients, stirring until just incorporated (don't over-mix).
Mix in the shredded carrots.
Drain the juice from the pineapple. (If you want, you can keep the juice—makes a nice drink.) Stir the drained pineapple and raisins into the cake batter.
Spoon the batter into the prepared pan, smoothing the top with the back of a spoon.
Bake for 40 to 45 minutes, until a tester (a knife or a toothpick) inserted in the center comes out clean.
Cool in the pan on a rack for 10 minutes. Slide a knife around the edges of the pan to loosen the cake. Invert onto the rack to cool completely.
When the cake has cooled, you can frost it, if you want.
Nutritional Info (Per Serving)
Cake Only: If you frost this, the nutritional info will change (of course).
103 calories (20% calories from fat)
3g protein
2g total fat (0.2g saturated fat)
19g carbohydrate
1g dietary fiber
123mg sodium
Diabetic Exchanges
1½ carbohydrate (1½ bread/starch)
From: